The Canucks Red Hamilton Cancer Story – In Their Words
It's a wonderful, remarkable story. That of Seattle Kraken fan Nadia Popovici essentially saving the life of Vancouver Canucks equipment guy Brian "Red" Hamilton by pointing out a cancerous mole on his neck during an intermission of the Seattle franchise's inaugural game back on October 23rd.
You can read about it everywhere, from Sports Illustrated to the Washington Post. So VHN is just posting a chronological summary "in their own words" that you can bookmark if you ever want to reference or share. It's a tremendous tale to have access to and to pass along because of its inspirational nature.
"I felt bad at the moment because I'm walking off the bench and she put her phone up to the glass and on the phone it said 'the mole on the back of your neck is cancer' and it threw me off," Red said about the woman getting his attention. "I just kind of shrugged it off and kept going, and so my initial response when I found out (that it was cancerous), I felt bad because I felt like I really didn't give her the time of day, so I'm excited that she knows because she needs to know."
Five days after the then unidentified woman showed Red the message, a Vancouver Canucks team doctor cut off the mole and had it tested. It was cancerous, but because it was caught so early, any malignancy was successfully eradicated. Had the mole been allowed to grow deeper, according to doctors, his life may have been over within just a few years.
"Then it was after I knew what was going on with the mole that I talked to "C-Mac" (Vancouver Canucks Media Relations man Craig MacEwen) about trying to find this person," Red said.
Which led to the Canucks next visit to Seattle on News Years Day and this letter from Red posted on Canucks social media the morning of the game: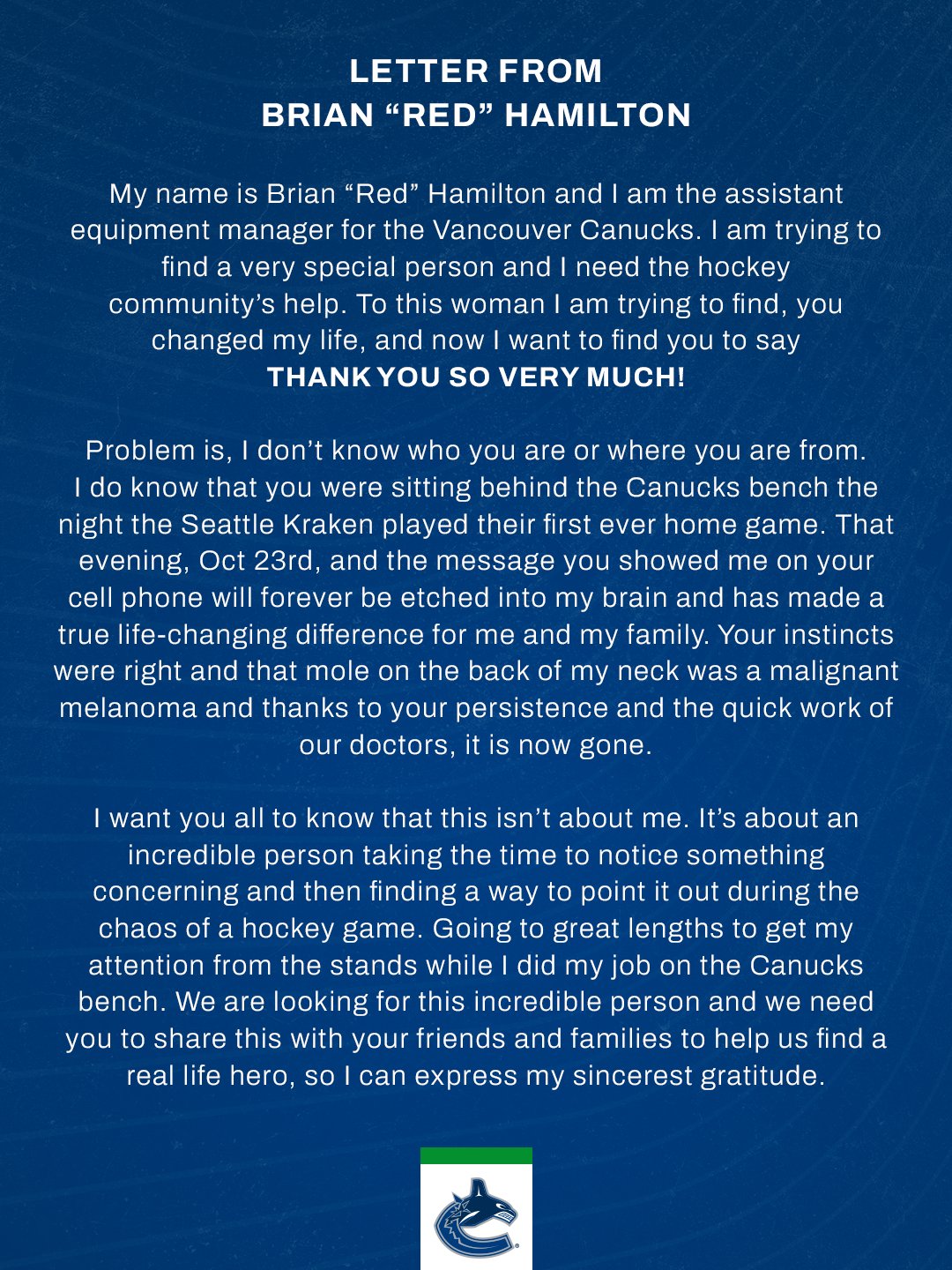 The social media networking proved successful, but when they first tried to reach Nadia on January 1st she was sleeping, having worked a late night volunteer shift on a suicide prevention hotline. Yeah, that's right.
"My mom wants her to know that she loves her," Red said of Nadia once she'd been identified. "If I do get to meet her tonight which I really hope I do, I want her to know that her persistence was what saved my life and obviously I want to say thank you."
The two met and hugged before the game.
"The fact that I got to look him in the eye and hear what happened from his perspective," said Popovici, "Imagine how jarring that is for you to be at work and someone just kind of looks at you and says, 'Hey, maybe you go see a doctor.' That's not what you want to hear. So the fact that I got to see him and talk to his family members that have been really impacted by him dodging a big bullet, that's so special."
Popovici graduated from the University of Washington and plans to start medical school this year. She's been accepted to more than one. Her pre-med and volunteer work in hospitals allowed her to identify the mole.
"What an amazing way to start my journey to med school! It's priceless. I mean I'm so happy for you that you got it checked out," Popovici told Red.
During a TV time-out the Kraken announced the story to the sold-out crowd at Climate Pledge Arena. During the ensuing standing ovation they announced that the Kraken and Canucks had joined together to contribute $10,000 to Popovici's medical school education. She covered her mouth with her hand in disbelief, as seen on the two giant video boards they call "the twins" inside the building.
"She is a hero," Red said. "I want you all to know that this isn't about me. It's about an incredible person taking the time to notice something concerning and then finding a way to point it out during the chaos of a hockey game.
"She extended my life. I've got a wonderful family. I've got a wonderful daughter. She saved my life."