Vancouver Canucks Ties: 2 Jims, 4 Marks, A Gabby, and ALS
Call it ALS, call it Lou Gehrig's Disease, call it whatever you want, but it sucks. The hockey community is a small one, with two degrees of separation not six, and a group of men with many ties in common, including the Vancouver Canucks, are being affected by this dreadful disease.
Well, obviously one man more than the others.
Former Vancouver Canucks, Detroit Red Wings, and Toronto Maple Leafs center Mark Kirton was diagnosed with amyotrophic lateral sclerosis (ALS) in 2018, a disease that gradually causes paralysis and shuts down the body. Four years later his attitude, positivity and work ethic toward helping others, while gradually losing his own faculties, is astounding.
"You read all the stats," Kirton told VHN by phone on Saturday, "two to five years, two to five years, but there are lots of ALS people who have lived ten years plus. So I made a decision right then, that there's no doom and gloom, I would be positive and I would do everything in my power to create advocacy for it. I'd help other people who have it and spread the word the best I can using the platform I have from my previous career."
"We played together in Moncton and in Toronto and in the minors and we lived together, and we're just great friends, and he got ALS, and he's still the strongest, bravest man I've ever met," Canucks Head Coach Bruce Boudreau said last week. "I mean, he'll phone me when I'm down and I just sit there and I go, 'Kirts, I mean, you've got this problem here and you're phoning me to lift me up'. He's such a great man."
Just months after being Gabby's roommate in the AHL, Kirton started the 1980-'81 NHL season with the Maple Leafs. In early December he was traded to Detroit for a goalie, current Vancouver President of Hockey Operations Jim Rutherford.
After the season Rutherford moved back to Detroit for the summer and the two players who were swapped for one another became friends.
"And we've been friends ever since," Rutherford told us this past week. "He was always a great team guy, always very funny, and he conveys that positive nature in everything, including in this serious issue he's dealing with now."
Twenty-five months after the deal that moved him to Motown, Kirton was dealt to the Vancouver Canucks in January of 1983. He ended up playing on the penalty kill and sometimes on a line with a winger named Jim Nill, the current general manager of the Dallas Stars.
"We were on a line sometimes, we used to joke, we never got to play together on the power play," Nill said with a laugh, as most NHLers who never saw the power play often do. "He played hard, he was a great skater and he was just a good teammate. The good thing about Mark, he always had a smile on his face, life was always good, nothing was going to get him down and he continues to live that way."
With Nill's Dallas Stars visiting the Vancouver Canucks last week, it seemed to be the perfect time to pull the trigger on a hockey adventure for Kirton and some of his Toronto pals. A trip to see Gabby, Jim and Jim all at the same time, and a chance for Kirton to encourage Boudreau with his playoff push.
"And the funny thing is, the four guys on the trip are all named Mark," Kirton said. "These are three guys I've known for fifty years who actually had the idea of coming out to Vancouver in the first place after Jimmy invited me. And Gabby. So you can imagine us arriving to the alumni box and me introducing everyone as Mark, Mark, Mark and Mark."
Darcy Rota, who played with Kirton on the Vancouver Canucks and was hosting the visitors in the box that night, got a big kick out of it.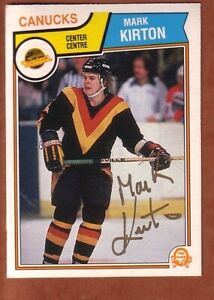 "There's about eleven or twelve guys from Toronto who all lived within about four streets of one another, and we all still to this day, for the last three or four years it's been zoom, every Monday night we have an hour zoom," Kirton said.
Symbolic of friendship and dedication that would come as no surprise to anyone who knows him.
"And we go golfing twice a year, all eleven guys," Kirton added, knowing his actual days of physical participation have ended.
Kirton and his wife have raised two adult sons and a teenage daughter.
"Pretty hard on the family, because they're the arms and legs," Kirton said. "When someone snatches your twilight years from you it's pretty tough, because we've raised three kids, and then we were ready to travel and enjoy our down time."
Kirton and his wife still run a successful three-decade old real estate business in Oakville, Ontario, a little west of Toronto.
"So I'm grounded in a wheelchair, my legs are fried," Kirton says. "It's in my arms as well, but I can still type by hanging my hand over the typewriter and typing with my middle finger. I can still talk, my brain is completely normal."
Once laying down, Kirton can't move. A personal support worker (PSW) rolls him over three or four times a night.
"But I consider myself lucky to go into the eighth year since symptoms, where I'm at right now," Kirton said. "I think my shoulders will go next. I'm just trying to hang on until they hit a home run, right?"
Advocating for that 'home run' is Kirton's other fulltime job. We look at that effort and hear more from his hockey pals in part two.
"The Vancouver Canucks days, through the NHL, we kind of played the same roles, we were kind of third, fourth line type of guys," Nill said of Kirton. "Got to know him well, respected him, got to build up a good friendship and kind of continued that over the years. Now he's going through another big battle in his life and it's really been an honour to witness how he has dealt with this situation and how he's trying to help other people with it."