Vancouver Canucks Get Kuzmenko!
The Vancouver Canucks won the bid for free agent Russian winger Andrey Kuzmenko, just three days after his visit to British Columbia on Friday.
The player posted a photograph of himself on social media Monday morning (pacific) from Moscow wearing Vancouver Canucks gear just about the time his agent Dan Milstein tweeted the news.
Vancouver Hockey Now spoke to Milstein this morning. The agent said the real work was done the previous Friday, June 10th, when Canucks Head Coach Bruce Boudreau drove from Toronto and Canucks GM Patrik Allvin drove from Pittsburgh to meet Kuzmenko at Milstein's office in Ann Arbor.
Milstein said that at some point during the season, every NHL team expressed some interest in the 26-year-old right shot, left wing, who finished second in overall scoring this past season in the Russian Kontinental Hockey League (KHL).
The Canucks beat out five other finalists, teams that Kuzmenko actually met with in the final days while making his decision.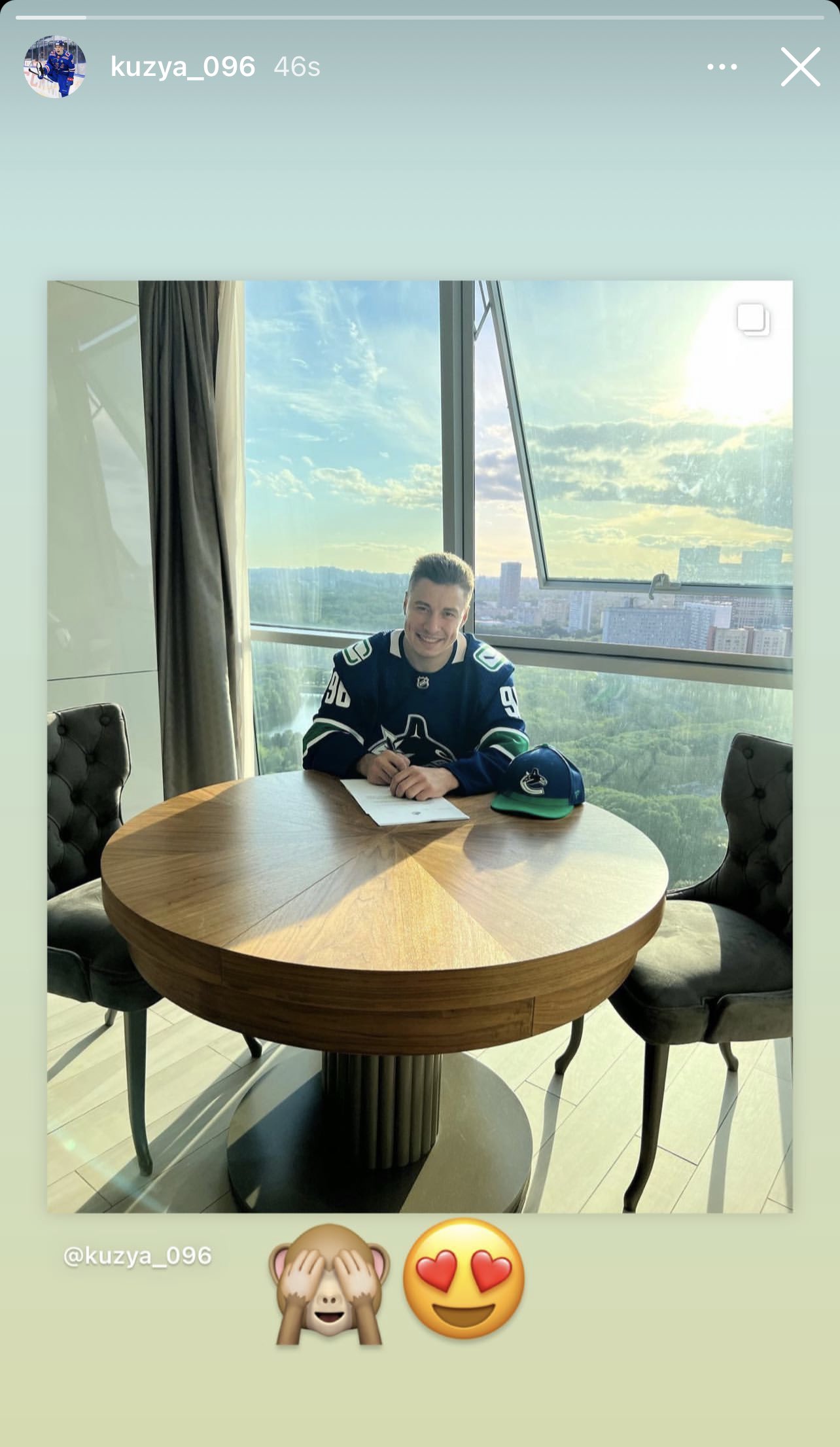 Two of those teams are Pacific Division rivals, the Edmonton Oilers and the Los Angeles Kings.
It's not known at this point how much Kuzmenko's relationship with former St. Petersburg teammate and current Vancouver Canucks forward Vasily Podkolzin had to do with the decision. As Milstein has pointed out, and VHN earlier detailed, there are a number of former Kuzmenko KHL teammates presently playing in the National Hockey League. In other words, no shortage of buddies who may have had his ear.
"It just felt right," Milstein told VHN. "He was comfortable with the situation, comfortable with the whole thing, and impressed."
Kuzmenko called Allvin Monday morning to inform him of his decision.
Contract talks should not be complicated. Kuzmenko is due a one-year, entry-level contract that should earn him in the neighbourhood of $1-million (US) for the single upcoming season.
His intentions clear, Kuzmenko can officially sign next month during the free agency period.